overview
Overview of Digital and Content Marketing
Foundational Elements
Marketing Strategy
A marketing strategy starts with a clear understanding of why you're in business and how your company delivers value to your customers. It highlights your marketing goals and the marketing tactics you will use to achieve business growth.
You need to have a clear mission, vision and values, and a clearly defined value proposition and purpose. A good strategy is the rock on which you build your company. Successful tea and coffee businesses have a solid overarching marketing strategy and often create a specific digital marketing strategy.
Marketing Fundamentals
Your marketing strategy is specified in your marketing plan. Beyond understanding your business's unique particulars, a marketing plan shows an understanding of your target audience, marketing mix, competitors, and market.
A marketing plan highlights your unique place within the tea market or coffee market, for example. Your marketing plan provides the context for making choices in spending your marketing budget. It also offers critical clarity into how your company connects products to its target audience.
Branding
Building a strong brand requires a more sophisticated approach to branding your business. You must have a strategy and brand purpose - a mission statement.
Defining your company's voice, values and personality isn't something you do every day; bringing it to life is. You need to be clear on three aspects of branding: strategy, communication, and visual standards.
Branding is the perception of your tea or coffee business within the market, including your imagery and content. Companies intentionally steer market perception with a brand strategy.
Great branding is consistent; a brand communication guideline steers implementation. Your brand experience should have continuity, from a potential customer's first impressions through to their post-purchase experience.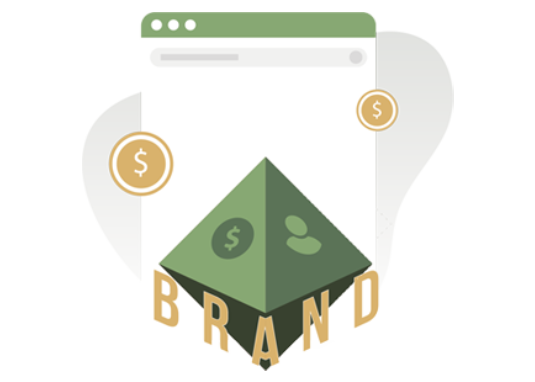 For brick and mortar businesses, branding also includes the in-person customer experience, which is why branding a coffee shop or tea room takes on added complexity. After strategy and communication guidelines are defined, you create your visual identity - your brand's logo. The next step is selecting your color palette, typography, and application (brand do's and don't) within brand identity guidelines. A brand identity is the most straightforward branding element; it's how you visually communicate your brand to the market.
Digital Marketing
Pay-per-click (PPC) Advertising
Pay-per-click (PPC) advertising is a critical aspect of digital marketing that complements content marketing. PPC advertising can be broken down into two main categories: paid search and paid social.
Paid Search
Paid search, also called search engine marketing (SEM), gives businesses advertising opportunities within the sponsored listings of a search engine or a partner site. Companies pay either each time their ad is clicked (pay per click), displayed (CPM, cost per thousand), or when a lead or contact is created.
Paid search offers different ad formats such as:
search ads

display ads

app ads

video ads

shopping ads
Each format can be constructed into a campaign to achieve specific objectives at particular touchpoints.
Search ad campaigns are ubiquitous and give you immediate visibility on search engines. Brands may create such campaigns to promote their products or create competitor campaigns to steal prospects from their rivals. Once created, optimizing ads is required to ensure your budget is spent effectively.
Content Marketing
Content marketing creates and shares materials online that don't explicitly promote your brand but stimulates interest in your products or services.
A content marketing strategy is more specific than a digital marketing strategy. It defines who your audience is, what types of content you will produce, and considers competitor analysis.
When you think about content marketing for your business, you should conceptualize it as three steps:
First, you need to decide how to invest in content marketing and create the necessary documents. Such documents should include a content marketing strategy and a social media strategy. In some cases, channel-specific strategies are created, such as a Facebook marketing strategy.
Then you need to understand the content building blocks and how to use them.
Finally, you implement the areas of ongoing focus within your company's content marketing efforts.
Content marketing campaigns can strengthen your brand's marketing by influencing the kind of content your audience is paying attention to.
Upfront Investment In Content Marketing
Your upfront investment in content marketing has three parts:
First, you need to create a content marketing strategy.

Second, you need to consider if and how you're going to use storytelling on your company's website.

Third, you need to specify what role research, content creation, and content curation will play in your content marketing efforts.
Storytelling
Storytelling codifies the values of a culture, explores the conflicts faced by people, and examines identity. Stories are tools that enable the story sender and the story receiver to make an emotional connection. Our decision-making process is, in part, based on emotions. Therefore, influencing emotions within stories and using stories to shape decisions is a powerful force.
Stories can give meaning to objects, allowing businesses to create more intangible value in their products. Emotions drive a measure of our decision-making process, and storytelling is a powerful tool that businesses can use to drive sales.
The Five Content Building Blocks
Blogs can be considered either owned media (published on your website), or earned media
(published on another person's website) through guest posting.
3) Images
Images are visual assets produced for digital display. For content marketing, images include photos, illustrations, and infographics. Images are highly shareable visual assets, particularly infographics and social media posts. Brands control the degree to which they invest in visual social media assets, and social media post development can vary in style, quality, and frequency.
4) Videos
Video is a recording of moving visuals made and distributed digitally. Video content is a highly engaging visual asset.
Podcasts are digital audio files made available on the Internet and often downloadable. Podcasts are delivered as a series of new installments that subscribers automatically receive. When starting a podcast, businesses must align the content focus with their marketing strategy to ensure the endeavor brings the company closer to its goals.
The first step is to determine the publishing frequency of your podcast (e.g., daily or weekly), plan the first season of episodes, enlist guests, and produce the first several episodes (e.g., first five episodes). Next, you must select a podcast hosting platform, complete your podcast directory submissions, and promote your podcast. Two such promotional tactics include producing audiogram posts and audiogram stories, which you publish on various social media platforms.
In some cases, podcast content is unique, allowing for more and deeper audience connections to be made. In other instances, podcast content is a reproduction of existing content assets, like blogs. Deciding between these two podcast production techniques requires consideration; the choice should support your overarching strategy.
"The same content as the website but just in audio form"
"I don't have a separate purpose for the podcasts. It's pretty much the same content as the website but just in audio form. The difference is that I prefer to have a recorded interview instead of just showing the text."
Areas Of Ongoing Focus In Content Marketing
Writing, Editing, and Updating Content
Several factors go into writing well, like writing in an active voice, being concise, and making your information accessible to your reader.
Editing is a crucial element in creating strong content. This is where copywriting expertise can be hugely valuable to tea and coffee businesses looking to produce high-quality written content.
Updating previously published content is a crucial tactic in search engine optimization (SEO); 34% of bloggers say that updating content produces strong results. Google likes fresh content and has a special QDF (query deserves freshness) ranking factor, giving prominence to new content in search engine visibility. Updating old content by making material changes can also signal a degree of freshness to Google.
Hiring an expert to update your blogs is advantageous because competition for keywords and your domain score (the 'strength' of your website) changes over time. Working with an expert ensures you're most likely to get the best results in search. Such working relationships are often priced based on an hourly rate, set deliverables, or monthly retainer.
Older blog posts that are well-written and content-rich can account for substantial traffic to a site. HubSpot, a pioneer of inbound marketing, found that 70% of their site's traffic came from posts not published that month, for example.
Writing naturally and masterfully in English can be challenging for tea or coffee businesses launched by non-native English speakers. If your target market is English speakers, it's worthwhile to work with a copywriter who's highly proficient in English.